How Fast Erasing Occurs?
An actual erase speed depends on many factors:
HDD/SSD/NVMe disk speed: RPM and SATA/SCSI/SAS/NVMe type - the most important factors
Disk Controller speed: SAS (6 Gbps/12 Gbps), SATA III (6Gbps), (SATA II 3 Gbps), SATA I (1.5 Gbps)
Computer overall performance (CPU, RAM) and workload (how many parallel erases occur)
For most modern computers and disks manufactured within last years SATA III standard is supported, so erase speed is limited by HDD throughput (disk write speed) only.
Our tests give the results: 10 GB per minute (in average) per pass with decent computer configuration and disks with age of up to 5 years old.
For example, 2 TB Toshiba disk has been erased on Windows platform with one pass within 3 hours and 32 minutes, 14 TB Western Digital disk - within 18 hours 53 minutes.
The following snapshots are real-test certificates for erasing of:
1)
2 TB
Toshiba (manufactured in 2015) SATA III (6 GBps) 7200 rpm disk with
One Pass Zeros
and US DoD 5220.22-M (3 passes + verification)
showing the average speed of
9 GB/min per pass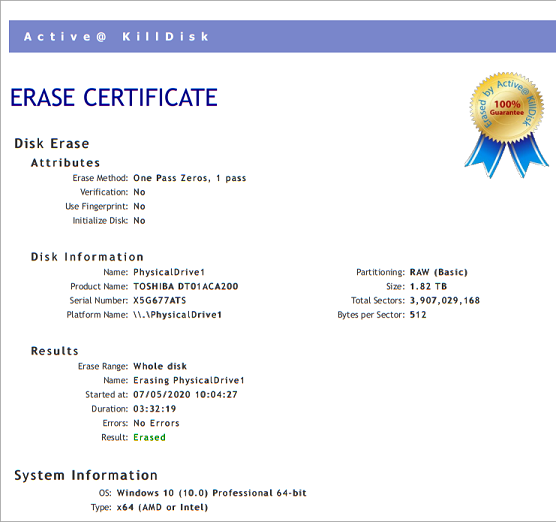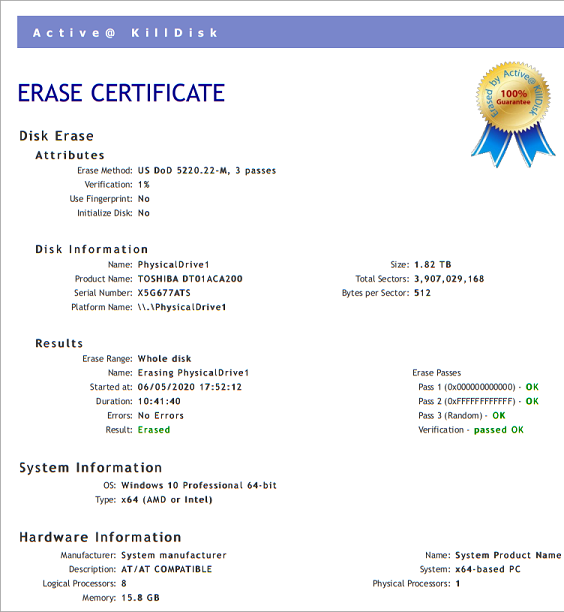 2)
14 TB
(Western Digital manufactured in 2019) SATA III (6 Gbps) 7200 rpm disk with
One Pass Zeros
and US DoD 5220.22-M (3 passes + 10% verification)
showing the average speed of
12 GB/min per pass