Application Log
Application Log View reflects every action taken by the application and displays messages, notifications and other service information. Use these messages to observe and analyze erase processes.
To open Application Log View do one of the following:
Click
from the main menu
Press

F8

keyboard shortcut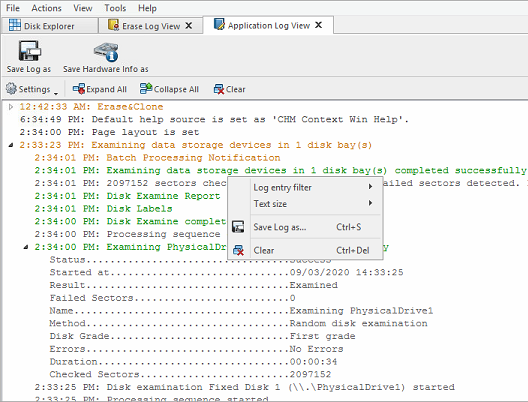 Once Application Log View is open and active, you can use toolbar buttons and the context menu to perform the following tasks:
Save log as

Opens a standard

Save As

dialog. Save the actual application log file to the local disk Default is .LOG file extension.

Save hardware info as

Opens a standard

Save As

dialog. Save the disk diagnostic file to the local disk. Default is .XML file extension.

Log entry filter

Shows or hides specific entry types in Log View:

Minimum details

Shows non-critical warning entries.

Maximum details

Shows advanced entries related to the application behavior and data analysis.

Text size

Changes text size to Large, Normal or Small.

Expand All

Expands all collapsed log nodes.

Collapse All

Collapses all log nodes.

Clear

Clear the log for the current application session.
Tip:
We recommend that you attach a copy of the log file to all requests made to our technical support group. The entries in this file will help us to resolve certain issues.